DreamBooks Media Professionals selects "Dreamin' in '89: A Novel" by T.G. Monahan For Film Adaption
"Dreamin' in '89: A Novel" by T.G. Monahan is a heartfelt story set in the summer of 1989.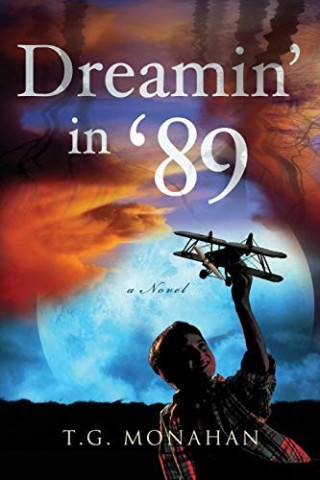 In an exciting development that promises to take audiences on a nostalgic journey to a vivid and iconic era, DreamBooks Media Professionals has announced the selection of "Dreamin' in '89: A Novel" by T.G. Monahan for its next film adaptation project. Set against the vibrant backdrop of the summer of 1989—a time defined by Batman ruling the box office and Milli Vanilli dominating the airwaves—the novel explores the fervent dreams and harsh realities of youth through the eyes of young Sebastian Riggs.
Sebastian harbors the tenacious aspiration of acquiring a vintage stunt radio-controlled airplane named the Dreamin'. Beyond a mere object, the Dreamin' represents respect, self-affirmation, and a path to healing strained familial ties. It's a story of a small town with deep-seated secrets and a young boy with high hopes, braving hurdles with a heart full of dreams.
Readers and critics alike have praised "Dreamin' in '89" for its potent blend of nostalgia and nuanced depiction of adolescence. Monahan's vivid narrative and richly developed characters offer a fresh and candid take on the timeless themes of growing up, forging friendships, and nurturing dreams amid adversities. The BookLife Prize commends the work for "vividly conjuring the spirit of the late 1980s" and "humanizing bullies," showcasing a young boy's redemptive journey through challenges and the ultimate realization of what truly matters in life.
Author T.G. Monahan, a former Judge Advocate officer and a veteran of the Iraq War brings to the tale an authentic depiction of struggle and triumph, crafting a narrative that is at once universal and deeply personal. Drawing from an enriched perspective, Monahan creates a world filled with characters who resonate with readers, evoking a sense of familiarity and heartfelt connection.
With this film project, DreamBooks Media Professionals continues its tradition of curating distinctive stories every quarter and presenting them to various film companies, ranging from small to large. Monahan's vibrant narrative stands as a promising entry in this esteemed lineage, offering a rich canvas for a memorable cinematic rendition that speaks to all generations.
As the industry awaits this adaptation with bated breath, there is a collective expectation that the film will capture the essence of a poignant period in history through the lens of young Sebastian's journey. Under the guidance of the seasoned team at DreamBooks Media Professionals, audiences can anticipate a film that honours the deep nostalgia of the era while bringing a fresh perspective to the experiences of youth and the potent power of dreams.
T.G. Monahan's earnest narrative coupled with DreamBooks Media Professionals' reputable adaptation process promises to create a film that is both a nod to a distinctive historic period and a touching testament to the enduring spirit of youth.
Dreamin' in '89 is now available for sale on Amazon.
About Company:
DreamBooks Media Professionals operates with a mission to identify, nurture, and bring diverse and profound narratives to life through their curated quarterly submissions, partnering with film companies to craft unforgettable cinematic experiences.
Media Contact
Company Name: Dreambooks Media Professionals
Contact Person: Derrik Jonathan Vassar
Email: Send Email
Country: United States
Website: www.dreambooksmediapro.com