Best Junk Removal Services In Oklahoma: Junk Platoon
Junk Platoon is a junk hauling company that enables people to clear up spaces of clutter and dispose of them too. They offer additional services such as junk removal, furniture removal, appliance removal, and light demolition.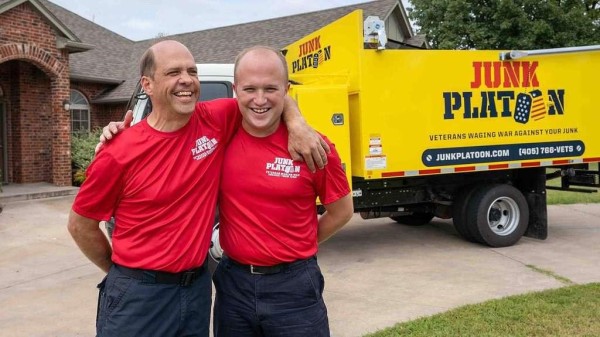 Many homes and other spaces have clutter inside and outside, making the place look shabby and unclean. One of the other reasons this space has to be cleared up, the space occupied by the clutter can be used for other things or left by itself. Clearing the clutter and junk accumulated may not be easy, so hiring a junk removal company that handles such issues at affordable rates will ensure your space is cleared quickly.
A junk removal services firm specializes in removing unwanted items, debris, and clutter from homes, offices, and other spaces. These firms provide services such as sorting, hauling, and disposing of various types of junk, including old furniture, appliances, electronics, yard waste, construction debris, and other unwanted items like hot tub removal.
Hiring a junk removal service will help homeowners get a professional clutter cleanup. They will dispatch a trained professional team to the client's location to assess the junk and estimate the removal cost. Once the client agrees to the terms, the team will proceed to remove the junk, using appropriate equipment and vehicles to ensure the safe and efficient disposal of the items.
Customers can hire the firm to provide additional services apart from getting them to haul junk away. They help clean and sanitize the area after the removal, recycling or donating items still in good condition, and providing secure and environmentally responsible disposal of hazardous materials.
Most people call junk hauling services as they are a convenient and efficient way to free up space in your home or workplace, get rid of unwanted items, and ensure that your junk is disposed of properly and responsibly.
About the Company
An Air Force veteran started Junk Platoon in Oklahoma and has succeeded in being one of the region's most trusted junk hauling services. A team of highly trained professionals who know how to handle clutter and its disposal help citizens deal with all kinds of junk problems. They have been part of several small to complete cleanouts, including trash outs.
Media Contact
Company Name: Junk Platoon
Contact Person: Todd Temaat
Email: Send Email
Phone: (405) 900-8387
Address:755 Napol Ave
City: Edmond
State: OK 73034
Country: United States
Website: www.junkplatoon.com