Written by Calvin and Leanne Davidson, "Against All Odds" shows that, regardless of circumstances, achieving dreams is possible
The book tells the inspiring story of how one couple built two successful businesses during the lockdown.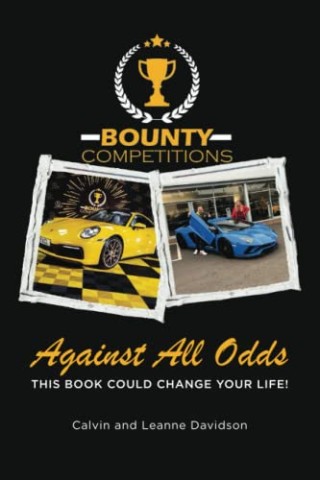 Calvin and Leanne Davidson are the authors of a new book titled "Against All Odds." The book is a candid and insightful look into the lives of the couple and their business and aims to inspire readers to achieve success despite the odds. Filled with personal and business insights, "Against All Odds" offers readers an opportunity to learn from the Davidsons' journey and realize that, no matter what challenges one faces, success is possible with the right attitude and skill set.
Despite the difficulties they encoutered over the years, the couple remained determined to create a better life for themselves. During the lockdown of 2020, they decided to start a business called Bounty Competitions. They started small, with just a few prize giveaways, but quickly gained popularity through social media. They soon expanded their business, running thousands of competitions and giving away prizes of every shape and size, from kettles to houses.
The success of Bounty Competitions has changed countless lives, including that of the couple. They have been able to provide for their family and give back to their community. Their inspiring story is chronicled in their book, "Against All Odds: This Book Could Change Your Life!". The couple shares their journey and provides valuable advice on how anyone can achieve success with the right attitude and skill set. They hope to inspire readers to believe that anything is possible, regardless of their background.
"We want to show you that anything is possible and that backgrounds don't matter. With the right skill set and the right attitude, it is possible to achieve success," says the couple.
Calvin and Leanne Davidson faced significant challenges and obstacles in the development of their business. Most of those challenges were related to discrimination, lack of education, and the environment in their upbringing. But the couple showed a strong work ethic and was willing to put in the effort required to succeed. They are driven by a strong sense of purpose and willing to make compromises to achieve their goals. The most significant element of their story is their ability to take calculated risks. They were not afraid to fail and were willing to try new things, even if they seemed risky.
Despite all the success that they have bagged, the essence of humility and gratitude is evident in their personalities. They recognize the role that others played in their success and are willing to give back to their community. This book is integral to their mission to inspire budding entrepreneurs. They also emphasize the need for perseverance, patience, and a willingness to learn from failure. "This is our story – no holds barred. We hope you enjoy coming along for the ride," says the couple.
"Against All Odds" is a must-read for anyone looking for inspiration and guidance on overcoming adversity and achieving success. With its powerful message of hope and perseverance, the book has the potential to change lives and inspire readers to reach their full potential.
The book "Against All Odds: This Book Could Change Your Life," is available on Amazon and other leading online bookstores.
Media Contact
Company Name: Bounty Competitions
Contact Person: Calvin & Leanne Davidson
Email: Send Email
City: Turriff
State: Aberdeenshire
Country: United Kingdom
Website: bountycompetitions.co.uk