Graphene Market Size To Hit US$ 1,540 Million By 2028 | CAGR 47.8%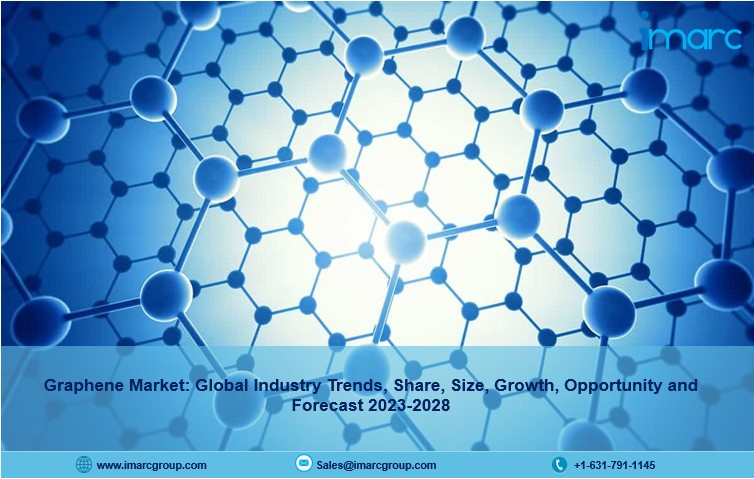 The global graphene market size reached US$ 100 Million in 2022. Looking forward, IMARC Group expects the market to reach US$ 1,540 Million by 2028, exhibiting a growth rate (CAGR) of 47.8% during 2023-2028.
IMARC Group has recently released a new research study titled "Graphene Market: Global Industry Trends, Share, Size, Growth, Opportunity and Forecast 2023-2028", The global graphene market size reached US$ 100 Million in 2022. Looking forward, IMARC Group expects the market to reach US$ 1,540 Million by 2028, exhibiting a growth rate (CAGR) of 47.8% during 2023-2028. This report can serve as an excellent guide for investors, researchers, consultants, marketing strategists and all those who are planning to foray into the market in any form.
Graphene is the building component of graphite, which is an efficient conductor of heat. It is produced by various methods, such as plasma-enhanced chemical vapor deposition (PE-CVD), chemical vapor deposition (CVD), and liquid phase exfoliation. It is widely utilized in the electronic industry for enhancing film cooling technology in smartphones and improving touch screen quality. It is also employed to improve the functionality of batteries by increasing the electrode density and accelerating the chemical reaction.
Additionally, it finds extensive application in the automotive industry to produce lightweight car parts, efficient sensors in self-driving cars, durable coatings, and effective lithium batteries for electric vehicles (EVs).Graphene assists in manufacturing biological agents and biosensors and enhancing drug delivery, biological imaging, and gene and cancer therapy. It also aids in forming anti-corrosion coatings and weather-proof packaging as it is chemically inert and impermeable to many gases. Asa result, it is widely used in the manufacturing of various sports equipment, such as padding, footwear, tennis rackets, ski boards, and golf sticks across the globe.
Request for a free sample copy of this report: https://www.imarcgroup.com/graphene-market/requestsample
Graphene Market Trends and Drivers:
The escalating demand for graphene in the electronics industry due to the rising sales of tablets and smartphones around the world represents one of the key factors driving the market. Apart from this, there is a rise in the demand for graphene to produce highly durable aircraft with low electrical conductivity and density. This, along with the growing utilization of graphene in the production of paints to reduce radar footprints, is offering a favorable market outlook. In addition, the increasing utilization of electric cars to reduce fossil fuel consumption worldwide is propelling the growth of the market.Besides this, the rising employment of graphene in the production of highly selective and permeable separation membranes for efficient waste-water management is strengthening the growth of the market.
Additionally, the growing demand for graphene to manufacture solar panels due to the rising environmental awareness among the masses is positively influencing the market. Moreover, the increasing employmentof graphene in the agricultural industry to manufacture sensors for monitoring vital crops and harmful gases is impelling the growth of the market.In line with this, the rising application of graphene to improve the lifespan of lithium-ion batteries is contributing to the market growth. Furthermore, key market players are investing in research and development (R&D) activities to introduce cost-effective manufacturing technology for graphene, which is expected to bolster the growth of the market.
Report Segmentation:
The report has segmented the market into the following categories:
Breakup by Type:
Mono-layer & Bi-layer Graphene
Few Layer Graphene (FLG)
Graphene Oxide (GO)
Graphene Nano Platelets (GNP)
Others
Breakup by Application:
Batteries
Supercapacitors
Transparent Electrodes
Integrated Circuits
Others
Breakup by End-Use Industry:
Electronics and Telecommunication
Bio-medical and Healthcare
Energy
Aerospace and Defense
Others
Market Breakup by Region:
North America (United States, Canada)
Asia Pacific (China, Japan, India, South Korea, Australia, Indonesia, Others)
Europe (Germany, France, United Kingdom, Italy, Spain, Russia, Others)
Latin America (Brazil, Mexico, Others)
Middle East and Africa
Competitive Landscape with Key Player:
ACS Material, LLC
Global Graphene Group, Inc.
CVD Equipment Corporation
Grafoid Inc.
G6 Materials Corp. (Graphene 3D Lab Inc.)
Graphene Nanochem plc
Graphenea Inc.
Haydale Graphene Industries plc
Vorbeck Materials Corp.
XG Sciences Inc.
Ask Analyst for 10% Free Customized Report: https://www.imarcgroup.com/request?type=report&id=1919&flag=C
If you need specific information that is not currently within the scope of the report, we will provide it to you as a part of the customization.
Other Trending Reports By IMARC Group
Crude Oil Flow Improvers Market
Fire Fighting Chemicals Market
About Us
IMARC Group is a leading market research company that offers management strategy and market research worldwide. We partner with clients in all sectors and regions to identify their highest-value opportunities, address their most critical challenges, and transform their businesses.
IMARC's information products include major market, scientific, economic and technological developments for business leaders in pharmaceutical, industrial, and high technology organizations. Market forecasts and industry analysis for biotechnology, advanced materials, pharmaceuticals, food and beverage, travel and tourism, nanotechnology and novel processing methods are at the top of the company's expertise.
Our offerings include comprehensive market intelligence in the form of research reports, production cost reports, feasibility studies, and consulting services. Our team, which includes experienced researchers and analysts from various industries, is dedicated to providing high-quality data and insights to our clientele, ranging from small and medium businesses to Fortune 1000 corporations.
Media Contact
Company Name: IMARC Group
Contact Person: Elena Anderson
Email: Send Email
Phone: +1-631-791-1145
Address:134 N 4th St.
City: Brooklyn
State: NY
Country: United States
Website: https://www.imarcgroup.com