Yoana Custom Umbrella Manufacturer Bringing Next Iteration of Folding Umbrella
Credited for the deep development of the "folding umbrella," Yoana Umbrella Supplier has truly created a moat in the Yoana umbrella industry.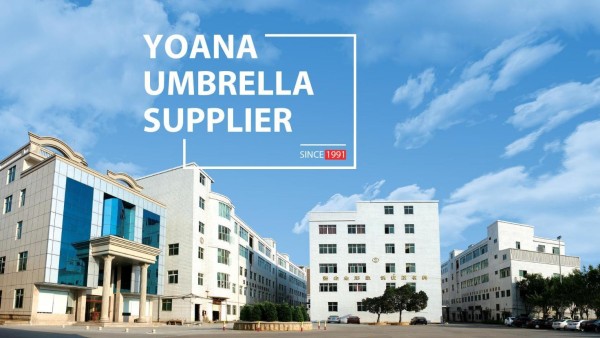 For the past 32 years, Yoana Folding Umbrella Manufacturers has made cumulative sales of 2 billion in the design and manufacturing of folding umbrellas. As they continue to reshape the value of the category, the company has already developed a range of innovative products that has taken the industry by storm.
It is a well-known fact that the first generation of self-opening and retracting umbrellas which became widely popular, had a major shortcoming. The umbrella frame was propelled out from the umbrella handle when the umbrella was opened as the elastic force was too strong. This posed certain safety issues. Yoana Umbrella Industry spent three years independently developing the safety self-opening and shutting umbrella to address these issues. They also submitted a patent application for "A sort of automatic opening and closing Umbrella with safety protection function." This improved product not only increased sales but also generated word-of-mouth.
Yoana Umbrella Company began with a single umbrella and has spent the past 32 years actively producing "folding umbrellas." They have developed the product's long-term worthwhile concentrating on the product. In the past, popular items were frequently associated with buzzwords like promotion and discount, but as the market has evolved and consumer demographics have become more diverse, it is now more important to determine whether a product's unique long-term value can win over customers.
In order to develop a strong moat, Yoana Umbrella Industry has developed its own supply chain system that includes R&D, production, and sales. Umbrella stands, fabric, and other goods with the entire industrial chain from cold rolling to injection molding are shipped to the United States, Russia, Italy, Spain, Ethiopia, Bangladesh, and more than 50 nations and territories worldwide.
In the words of one of the company's key spokespersons, "Customers prefer Yoana Umbrella Industry's folding umbrellas because the company is dedicated to making "three good" rain gear, which refers to the production philosophy of suitable raw materials, good style, and sound technology. Each umbrella's finishing goes through meticulous fabrication and rigorous testing. To ensure that each customer receives top-notch umbrellas and exceptional service, every aspect of the process, from the materials used to the craftsmanship details, is done to the fullest extent possible."
Yoana Umbrella Company, a leader and global expert in the production of folding umbrellas, has established more than 20 sales networks and a number of manufacturing facilities abroad to grow its market share abroad.
For a long time, optimal Anna continued to invest in industrial design, enhancing the folding umbrella manufacturer's expertise and holding industrial design competitions. Additionally, she actively participated in the "Chinese umbrella capital cup" international umbrella creative design competition "event for the designer to construct a communication bridge at home and abroad and realize the umbrella value.
Today, the company's sole focus is creating long-term user demand with concentration and innovation and supplying consumers with high-quality goods and services while consistently giving them access to supply chain advantages. The Yoana umbrella industry is heavily invested in the production of "folding umbrellas" to make a breakthrough in the umbrella's worth from a global perspective.
To learn more, visit https://www.yoana-umbrella.com/folding-umbrella
For more details call +86-13615950422 or send an email to [email protected]
Media Contact
Company Name: Fujian Youanna Umbrella Technology Co., Ltd.
Contact Person: Support
Email: Send Email
Phone: +86-13615950422
Country: China
Website: yoana-umbrella.com