Nuclear Medicine Market Size Worth $24.4 Billion By 2030 Due To Presence of Robust Product Pipeline & Favorable Government Initiatives To Improve Access To Nuclear Medicine | Grand View Research, Inc.
According to a new report published by Grand View Research, the presence of a favorable reimbursement scenario for radiopharmaceuticals in the U.S. is anticipated to boost the nuclear medicine industry growth.
Nuclear Medicine Industry Overview
The global nuclear medicine market size was estimated at USD 8.1 billion in 2021 and is expected to reach USD 24.4 billion by 2030, expanding at a CAGR of 13.0% during the forecast period.
The market is witnessing growth due to the presence of a robust product pipeline and favorable government initiatives to improve access to nuclear medicine. Currently, betalutin, omburtamab, yttrium-90 microspheres, PNT2003, 177Lu‑PNT2002, are some of the products under clinical trials.
Gather more insights about the market drivers, restrains and growth of the Global Nuclear Medicine Market
The nuclear medicine market has been moderately impacted due to SARS-CoV-2. The operation of reactors has been largely classified as an essential service, given its criticality. Therefore, nuclear reactors were not shut down during the SARS-CoV-2 lockdown. For instance, under Section 71 of the Labour Act 66 of 1995 in South Africa, its SAFARI-1 reactor remained operational during the lockdown enforced in the country post-March 2020. Moreover, in an article published by ANSTO in May 2020, it was reported that since its reactor provides critical medicines, it had maintained its operations during the COVID-19 crisis, with its staff returning to campus and following strict social distancing measures.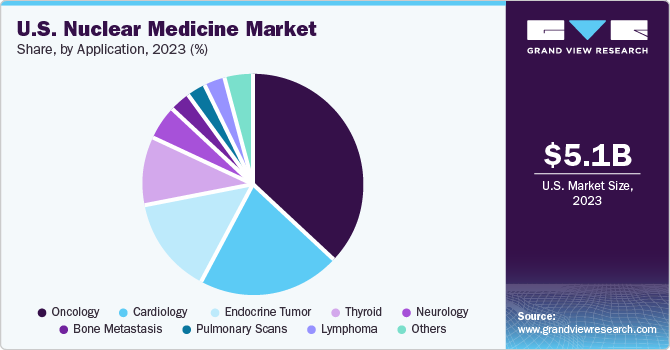 According to the American Cancer Society, the estimated incidence of prostate cancer is 268,490, and around 34,500 deaths in 2022 in the U.S. In addition, around 6 out of 10 patients diagnosed are men aged 65 years and older, with a rare incidence in men under 40 years. Recently, in March 2022, the U.S. FDA approved Pluvicto (177Lu-PSMA-617) for the treatment of adults with metastatic prostate cancer. This approval is anticipated to drive market growth.
The presence of a favorable reimbursement scenario for radiopharmaceuticals in the U.S. is anticipated to boost market growth. In 2020, the Center for Medical Services (CMS) offered a USD 10 add-on payment for Tc-99m derived from non-highly enriched uranium (HEU) for hospital outpatient service in addition to payment for imaging procedures. The initiatives, in turn, led to greater patient access to much-needed diagnostic nuclear medicines used for life-threatening diseases.
Increasing advancements in the diagnosis and treatment of diseases, and approval of new nuclear-medicine-based devices help in addressing patients' treatment needs. For instance, in September 2021, GE Healthcare announced the launch of a novel scanner with a new automated workflow feature that offers an exceptional view of cardiac anatomy and pathology to help physicians to decide the right treatment for a patient.

Nuclear Medicine Market Segmentation
Based on the Product Insights, the market is segmented into diagnostic products and therapeutic Products
Diagnostic product segment held the highest market share in 2021 owing to the presence of a large patient base and the availability of advanced technologies such as Single-Photon Emission Computed Tomography (SPECT) and Positron Emission Tomography (PET).
The wide range of radiotracers that are currently employed in the diagnosis of tumors, coupled with technological advancements, are contributing to the growth of the nuclear medicines market.
Therapeutic segment is further divided into alpha emitters, beta emitters, and brachytherapy. The robust product pipeline coupled with the approval and commercialization of nuclear medicine therapeutics may fuel the segment growth.
Currently, radium (Ra-223) is the most widely used alpha emitter in therapeutics. Development of potential radioisotopes, such as Terbium (Tb-149), Bismuth (Bi-212), and Actinium (Ac-225) is expected to augment market growth.
Based on the Application Insights, the market is segmented into cardiology, neurology, oncology, thyroid, lymphoma, bone metastasis, endocrine tumor and others
The oncology segment dominated the market in 2021. Cancer is one of the leading causes of death worldwide. Factors such as unhealthy diet, smoking habits, and lack of exercise contribute to rising prevalence. Furthermore, rising investment in the R&D of novel nuclear medicines for the treatment of cancer may contribute to segment growth.
The cardiology segment is expected to witness high growth over the forecast period due to the increasing demand for the diagnosis of CVD. In March 2021, Bracco Diagnostics Inc. entered into a partnership with CardioNavix, LLC aimed at improving the patient reach of the novel cardiac PET imaging system. This new initiative provides patients easy access to hospitals, physicians, and diagnostic centers, for cardiac PET imaging. This program may reduce the upfront cost and risk of business loss by encouraging clinical practitioners to prescribe & avail of this important diagnostic test.
Based on the Regional Insights, the market is segmented into North America, Europe, Asia Pacific, Latin America, and Middle East & Africa
North America dominated the market with a share of 45.2% in 2021 and is anticipated to grow at a significant rate over the forecast period. The high market share in the region can be attributed to the increased investment in R&D activities, high volume of nuclear medicine procedures, and strong healthcare infrastructure.
Asia Pacific region is estimated to be the fastest-growing region owing to the increased awareness about nuclear medicine therapies and rising investment in nuclear medicine space. For instance, in March 2022, Penang Adventist Hospital (PAH) announced the launch of a private nuclear medicine center in the northern part of Malaysia. This launch is anticipated to have a positive impact on the regional market.
Browse through Grand View Research's Pharmaceuticals Industry Research Reports.

Cancer Supportive Care Drugs Market – The global cancer supportive care drugs market size was valued at USD 14.03 billion in 2021 and is expected to decline with a compound annual growth rate (CAGR) of -1.57% from 2022 to 2030. The approval and uptake of targeted drugs, which have lesser side effects than traditional chemotherapy drugs, and the launch of biosimilars are expected to impede the market growth. Factors supporting the market include the rising prevalence of cancer, increase in the geriatric population, and high adoption of chemotherapy in low- and middle-income regions.
Pharmacy Market – The global pharmacy market size was valued at USD 1,008.5 billion in 2020 and is projected to expand at a compound annual growth rate (CAGR) of 4.3% from 2021 to 2028. The increasing number of people suffering from diseases, increasing aging population, and growing number of prescriptions are the key parameter driving the market. According to the National Health Services, the cost of prescriptions in the financial year 2020 – 21 increased by 3.46% as compared to 2019-20 in England.
Market Share Insights:
March 2022: Penang Adventist Hospital (PAH) announced the launch of a private nuclear medicine center in the northern part of Malaysia.
June 2021: Curium announced the acquisition of Austrian-based pharmaceuticals company IASON intending to expand its footprint in Europe. This acquisition is expected to strengthen its position in the market.
Key Companies Profile:
Leading market players are opting for geographical expansion, strategic collaborations, and partnerships through mergers and acquisitions in emerging and economically favorable regions.
Some of the key players in the global nuclear medicine market include:
GE Healthcare
Jubilant Life Sciences Ltd
Nordion (Canada), Inc.
Bracco Imaging S.P.A
The institute for radioelements (IRE)
NTP Radioisotopes SOC Ltd.
The Australian Nuclear Science and Technology Organization
Eczacıbaşı-Monrol
Lantheus Medical Imaging, Inc.
Eckert & Ziegler
Mallinckrodt
Order a free sample PDF of the Nuclear Medicine Market Intelligence Study, published by Grand View Research.
About Grand View Research
Grand View Research is a full-time market research and consulting company registered in San Francisco, California. The company fully offers market reports, both customized and syndicates, based on intense data analysis. It also offers consulting services to business communities and academic institutions and helps them understand the global and business scenario to a significant extent. The company operates across multitude of domains such as Chemicals, Materials, Food and Beverages, Consumer Goods, Healthcare, and Information Technology to offer consulting services.
Web: https://www.grandviewresearch.com
Media Contact
Company Name: Grand View Research, Inc.
Contact Person: Sherry James, Corporate Sales Specialist – U.S.A.
Email: Send Email
Phone: 1888202951
Address:Grand View Research, Inc. 201 Spear Street 1100 San Francisco, CA 94105, United States
City: San Francisco
State: California
Country: United States
Website: https://www.grandviewresearch.com/industry-analysis/nuclear-medicines-market